My first Award by Priyanka of Asankhana!!!!!!I am really touched by your gesture. Feels so rewarding after all the hard work one puts in here to make a blog successful! Thank you very much for this wonderful award priyanka!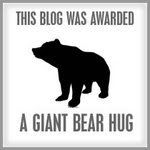 I am passing this award to :
Meeta , my dear friend of
whats for lunch honey?
Sree of
sree's canvas
Lisa of
Food and Spice
Indira of
Mahanandi
Congratulations Girls !!!!!Enjoy your Awards. You all truly deserve it!